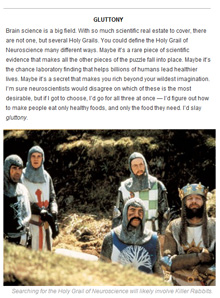 In Part 1 of "Gluttony", we set up the concept of Seven Deadly Synapses the book.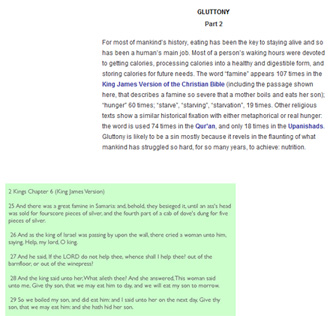 In Part 2, we looked at how an Oreo cookie is broken down and ends up either becoming a part of us, or being released in the toilet.
In this Sunday's installment, we'll see how chemicals in our brain and even the bacteria that live in our gut drive this process.
---
Gluttony
Part 3
The brain not only keeps us from suffering social embarrassment from anal leakage, but also has a huge role in determining when, where, and what we eat. If gluttony is a sin, it resides in the brain, not in the automated parts of the gut that lie outside of our control. The brain is a complex organ. There are, scientists estimate, 100 billion nerve cells, about the same number of nerve cells as there are stars in the Milky Way galaxy. Each of these nerve cells makes connections with 10,000 others, on average. To make sense of such a complex organ, it's convenient to think in terms of levels of organization, and for our purposes, we'll consider four levels.
The intestines form a tube, and all along that tube is a gut nervous system. We saw this earlier when we were talking about peristalsis, the milking action of the bowel. This is a sort of  "housekeeping" function, which occurs to a greater or lesser extent throughout a lifetime. Nerve cells fire in waves, like the ebb and flow of the ocean, and like the ocean the waves can be big or little, or can come in frequently or less frequently, but they're always there. The gut nervous system, called the enteric nervous system, is influenced by the content of the gut as well. More about this later.